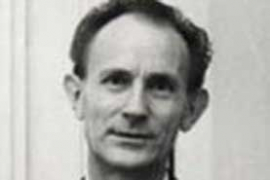 Karlis Osis (1917-1997) was a leading figure in parapsychology in the second half of the twentieth century, noted especially for his research on deathbed visions and out-of-body experiences.
Early Life
Karlis Osis was born in Latvia and lived through the German occupation, before fleeing to Germany when the Russians invaded his country.
He studied psychology at the University of Munich, where he came across JB Rhine´s The Reach of the Mind and conducted card guessing experiments, obtaining significant results. In 1951, he completed a doctoral thesis on Extrasensory Perception, a rare accomplishment at that time.
Osis's interest in the transcendental and paranormal began with striking experiences that happened to him and to members of his family. He described a life-changing experience at the moment of the death of a relative who was living in their house.
It was dusk in my room when it happened. All of a sudden a tremendous wave of joy, of such an unusual quality, came over me. I had not heard of anything like it before. The room seemed to fill with white light; not something by which one can read, but 'light' is the closest word I can find to describe it – living light – not only in the room but also in me, filling me up to my fingertips. Then the door opened and a relative announced, 'Auntie just died'. My experience and her death were surely simultaneous.1
Parapsychological Activities
After the war, Osis immigrated to the US under a displaced person program and got a job in a timber mill near Seattle. At this time he started corresponding with Rhine, who invited him to his parapsychology laboratory at Duke University in Durham. There, among other things, he conducted an animal-psi study, attempting to influence a cat to choose one of two identical food bowls (the results were inconclusive).2
After a few years with Rhine, Osis moved to the Parapsychology Foundation in New York, an organization founded by medium and psi researcher Eileen Garret that became a major source of funding and education. Here he collaborated with Montague Ullman and Douglas Dean on a study of ESP in dreams, helping to develop a different methodological approach to the 'forced-choice' card guessing experiments begun by Rhine, which until then had dominated the field.
In the early 1960s the American Society for Psychical Research (ASPR) – previously a leader in American psi research, now dormant for lack of funds – revived by means of a large donation from Chester Carlson, the founder of the Xerox company. In 1962, Osis started to work for the ASPR and was soon appointed its research director. There he conducted his most important studies, both experimental – for instance studying the effect of distance on ESP – and field research on spontaneous experience, notably visions at the time of death and out-of-body experiences, the latter in particular characterized by an innovative approach and creative use of technology. This work helped considerably to revive the reputation of the ASPR. It also became the basis of highly successful fundraising, thanks to the quality and relevance of his research, the trust and liking that people had for him, and for his integrity and his abilities as researcher.
Osis was greatly interested in questions of survival, of 'other-worldly' experiences and altered states of consciousness. For him, the 'other world' was never far away, and this is reflected in his studies of apparitions, deathbed visions, mediums, the effects of meditation on ESP, and creativity among outstanding artists. With Erlendur Haraldsson he visited the Indian spiritual leader noted for feats of 'materialization' Satya Sai Baba.
His many friends were not only found among parapsychologists, but almost equally among leading scholars of consciousness and religious experiences, such as Aldous Huxley and Walter Huston Clark and the first researchers of psychedelic substances. Osis was a welcome guest at their conferences. He cherished the 'wider view' and parapsychology was for him 'my window to something more'.
Osis was a founding member of the Parapsychological Association and its fourth president in 1961. He regularly attended the PA conventions and presented numerous papers. His full bibliography is published in the Journal of the ASPR, beginning with his doctoral dissertation in 1950 and ending in 1998 with 'Core Visions of Psychical Research: Is there Life After Death? A Cross-Cultural Search for the Evidence' (a somewhat imperfect copy can be viewed here

Karlis Osis bibliography.pdf).
Literature
Alvarado, C.S. and White, R. (1998). A Bibliography of the Publications of Karlis Osis, Journal of the American Society for Psychical Research 92, 233-240. (See link above).
Haraldsson, E. (1997). In Memory of Karlis Osis. Journal of Parapsychology 61, 253-255.
Haraldsson, E. and Osis, K. (1977). The appearance and disappearance of objects in the presence of Sri Sathya Sai Baba. Journal of the American Society for Psychical Research 71, 33-43.
Osis, K. (1987). The Paranormal: My window to something more. In R. Pilkington: Men and Women in Parapsychology: Personal Reflections. Jefferson, N.C.: McFarland.
Osis, K. and Haraldsson, E. (1977). Deathbed observations by physicians and nurses: A cross-cultural survey. Journal of the American Society for Psychical Research 71, 237-259.
Osis, K. and Haraldsson, E. (1977). At the Hour of Death. New York: Avon Books, 244 pp.
Osis, K. and Haraldsson, E. (1976). Out-of-body experiences in Indian swamis: Sri Sathya Sai Baba and Dadaji. Research in Parapsychology 1975, Metuchen, N. J.: Scarecrow Press, 147-50.
Various (1998). Tributes to Karlis Osis. Journal of the American Society for Psychical Research, 62,3, 203-240.
References